Silica gel pouches are the small sachets of Silica gel which protect the materials inside the packing, providing the exact amount of Silica gel gram size treatment against the size and dimension of the packing of the package.
It is vitally important to calculate the inner dimensions of the Packaging material inside which our product is been packed according to which the Pouches are used.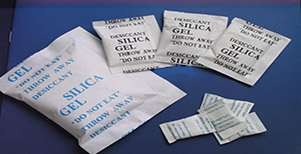 There is a huge variety of pouches offered by us as below:-
Gram Size: 0.5gram, 1gram, 2gram, 5gram, 10gram, 20gram, 25gram, 50gram,100gram,200gram,250gram,500gram,1Kg Bags, 5Kg Bags.
We also can Provide customized odd sizes other than mentioned above.
Silica gel pouches Non-Indicating (White)
Silica gel Pouches Indicating (Blue or Orange)
Packing Extract
Silica gel Pouches Tyvek (Non-terrible)
Silica gel Pouches Non-woven (Fabric)
Silica gel Pouches Paper
Silica gel Pouches Cloth
Application:
1. Metal products, engineering goods & hand tools
2. Leather or leather goods
3. Garments
4. Electronic Products
5. Dry flowers
6. Pharmaceutical Products
7. Glass Products
8. Spices
9. Beer
10. Compressors
11. Industrial Boiler
12. Shoes Industries
13. PCS (Printed Circuit Boards)
14. Food articles
15. Surgical Instruments
16. Electronic Instruments
17. Automobile Industries and Batteries
18. Optical Devices and lenses
19. Pet foods
20. Old Documents
21. Photographic Types of equipment and Films
22. Containers
23. Computers
24. Jewelry
25. Tool Boxes
26. Powder chemicals
27. Perishable Items
28. Artificial Jewelry