Asia Packaging Silica gel is a granular or round bead form of silica gel in Indicating or Non-Indicating form that is made synthetically from sodium silicate. It is non-hazardous and can absorb up to 40% of its weight in water vapor at 100% humidity. Being solid substance that is extremely porous, capable of absorbing high levels of moisture, it has a higher moisture adsorption capacity of any commercial desiccant making it one of the most effective ingredients for products designed to prevent corrosion during transportation and storage.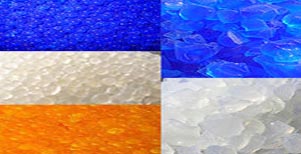 Numbers of products are manufactured according to the client's requirement using silica gel as a desiccant, against the continuously innovative ideas and an immense amount of advancement in the Packaging sector of the pharmaceutical units.
Uses:
Silica gel canisters
Desiccated Bottle caps
Silica gel vials
Silica gel Pouches
Silica gel Chromatography
Silica gel Breathers
From pharmaceutical companies, contract manufacturers, Research centers to API units
Asia Packaging is one of the leading providers of desiccants
Our experts will be happy to help you and determine the silica gel products which might best suit your needs and suffice your requirements.
Silica gel White is referred to as being Non-indicating Silica gel which comes in different Mesh sizes, the granular sizes are different which vary in sizes as mentioned below, they are used according to the packing patterns into Pouch forms to keep products Dry.
They are DMF free and Cobalt free into best permit able Non-woven cloth to absorb 30-40% of Moisture.
The use of Indicating silica gel can also be a great help, it is a simple yet effective way to ensure that moisture levels remain at a minimum. Not only does indicating silica gel absorb surrounding moisture, but it also changes colors as it does so. The more moisture the silica gel absorbs, the less effective it eventually becomes. Once it reaches its saturation point, indicating silica gel will turn to a specific color, signaling it should be replaced.
Available sizes: 0.5,1,2,3,5,10,25, 50,100,250, 500grams,1Kg and 2Kg.